Popularity:
Publisher's description

File Splitter is a freeware program which does not require installation and can be used to split files to multiple chunks as well as to merge multiple chunks into a single file.


Platform: Win95,Win98,WinME,WinNT 3.x,WinNT 4.x,Windows2000,WinXP,Windows2003
License: Free
Category: Other
Date Added: Oct 31, 2006
Last check for an update: May 25, 2017
Last version date: Dec 17, 2008
Downloads Total : 2
Downloads last 10 Days: None
Page Visit: 77
Malware Status: Clean
Scan Date: Mar 24, 2008
Link to Free File Splitter sample code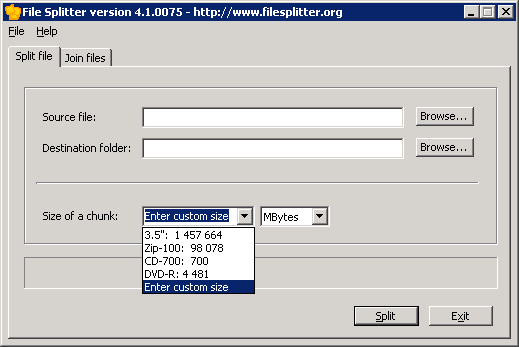 Let others know your opinion about Free File Splitter! Add your comments:
No comments have been provided.
Disclaimer:
DoubleR Software Download is not responsible for the content of the publisher's description or website. We cannot be held liable for issues that arise from the download or use of these products. We take every care to ensure that software available from this site is adware-spyware-virus-free but any software downloaded should be virus-checked by the downloader.